Fall Fashion for Date Night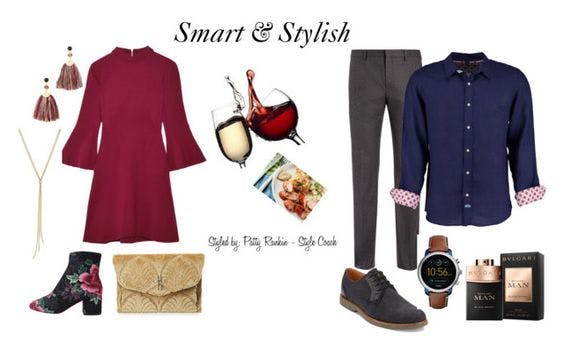 by special guest Patty Rankin, Style Coach
Bourbon St. Cafe in Bricktown is a popular date night locations for great reason - cool vibe, romantic Riverwalk spot, and of course delicous Cajun food and steaks and craft cocktails! Now that the temps are finally cooling off, it begs the question...what to wear? Bourbon St. is great because it's a place you can dress up or dress down, typically due to what you are doing before or after...a movie or mini-golf? A Thunder game? A concert? You get the drift. So we'll cover all the bases for you. Let's talk FALL FASHION for DATE NIGHT! I'm sharing three distinct style boards for the guy and gal to give you ideas to pull off these vibes...
Smart and Stylish:
It's not cocktail attire and it's not casual, but instead smart and stylish. Creating a version of this outfit is simply about a solid dress and updated shoes and jewelry. Adding a touch of print in a simple and stylish way is key for a man's outfit. Look for details in the collars, cuffs, and piping/buttons.
Casual and Chic:
You can still throw on a t-shirt and jeans, but amp it up a bit with some true personality. Have fun with it, but keep it unique to you.
Fun and Flirty:
Runway meets Reality. Keep it fun and functional, and make an effort to be a a little flirty, too. Create a version that works for you and show your true personality with a polished vibe.
Reserve your date night table here on our site OR call 405.232.6666. Get more style inspiration from Patty Rankin on Instagram or Facebook.