Got a grad? Try these cool gift ideas!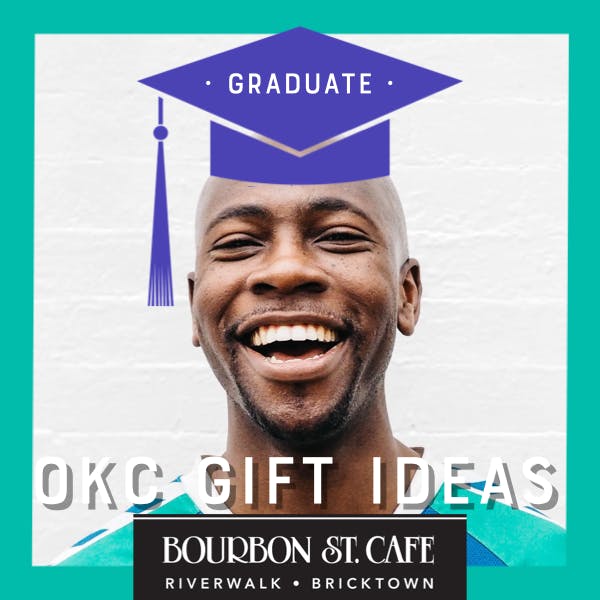 As OKC's celebration destination for 19 years, we at Bourbon St. Cafe have enjoyed being a part of hundreds of new graduates' big day! Since graduation is fast approaching, we've pulled together some fun gift ideas for grads based on interests.
Best for the Book Lover: A gift card to Common Place Books & Kitchen Let the grads pick their favorite book(s) to read and relax this summer before they hit the books required if they go to University!
Commonplace Books & Kitchen
1325 N Walker Ave #138 · (405) 534-4540
Best for Bedlam (OU/OSU bound students): Get some nice crimson or bright orange gear for their closet or dorm rooms at BEDLAM ZONE.
3601 S Broadway Ste 150
Edmond, Oklahoma
m.me/Bedlamzone
(405) 418-2600
Best for Backpacks: A good backpack that's durable enough to last four years can be pricey so treat your grad to the huge selection available at Metro ShoeWarehouse.
MetroShoe Warehouse has 3 great locations, shop your favorite brands and fashion trends! Oklahoma City, Norman, and Tulsa! More than just a shoe store!
- Oklahoma City, Quail Springs Marketplace Memorial Road & Penn Avenue...Next to Old Navy
405-302-5150
- Norman: 1806 24th Ave NW Norman, OK Next door to Wingstop!
405-321-6544
- Tulsa: Across the Street From Woodland Hills Mall
2208 E 71st Street
Tulsa, OK
918-938-6388
Best for Techs: Apple Watch 3 at Amazon or AirPods :: Head to the Apple Store at Penn Square Mall if your grad has been wanting an Apple Watch or AirPods.
Best for Food & Fun: Grads are always hungry and always short on cash. We know they appreciate gift cards to their favorite restaurants and activities and this is a great way to support local, too. Stuff an envelope full of gift cards (including a gas card) and watch their faces light up! You can order a Bourbon St. gift card here.
We're looking forward to seeing you and your grads in May! If you haven't booked your party yet, book it online here or if you'd like us to come to you, call our catering manager at 405-424-6666.